Trivia
On this day Patsy is missing as he starred in the Irish international team's 1-1 draw with England at Belfast before a crowd of 30,000
Charlie Shaw is not available through injury, which gives a chance to impress for debutant Willie Lawrie

Celtic wear the diamond collar all green top strip for one of the rare times in a competitive match, also worn a month before in the Glasgow Cup again v Queen's Park on 20 Sep.
The Glasgow Herald that reports this match also reports on crowd trouble at the games at Paisley and Falkirk and even worse trouble at the junior cup tie between Vale of Clyde and Shawfield Juniors in which 5 players were injured when a crowd invaded the field of play. LINK
In the same edition of the Herald is a letter from a Mrs Milne Home, of Wedderburn entitled: "In Memory of the Red Men" which recounts the visit to Scotland in 1916 of a party of Brock's Rangers led by Chief Clear Sky of the Iroquois and pays tribute to the 8,000 native Canadians who fought, and some of whom died, in WWI.
A report in the same newspaper bears the headline "A dramatic Escape" "Six Sinn Feinners Leave Manchester Jail"
Also advertised in the Herald as showing at the City Picture House, Hope Street, is the silent movie "Mrs. Leffingwell's Boots" starring Constance Talmadge.,
Review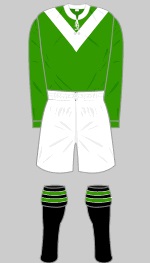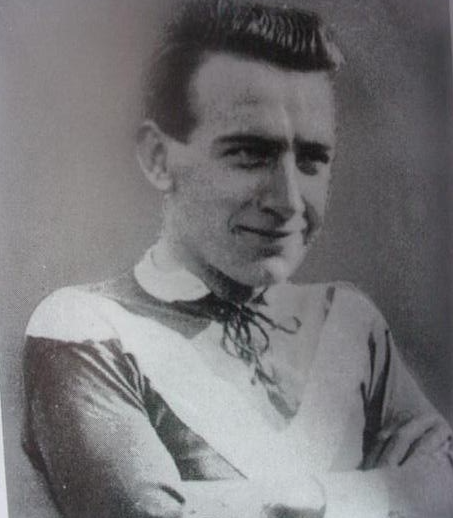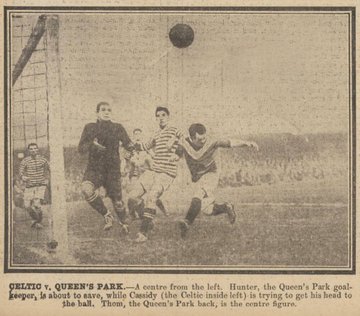 Teams
CELTIC:
Scorers: Cringan, Watson, McStay
QUEEN'S PARK:
A. C. Hunter, J. Steel, Hugh Thom, J. Donaldson, K. McKenzie, David F. Cameron, J. B. Bell, J. Kinloch, Russell, R. McFarlane, A. L. Morton
Scorers: Bell
Referee: H. W. Lorimer (Leith)
Attendance: 20,000
Articles
Match Report (see end of page below)
Pictures
Articles
The Glasgow Herald – Oct 27, 1919
Queen's Park Unfortunate
At one period of the game at Parkhead it did not seem as if Celtic were to benefit from the introduction of a new goalkeeper and a former centre-forward. The Queen's Park forwards showed unwonted confidence and accustomed skill against the League champions, overran the professional's defence, and held a slight lead in goals that no more than did them justice. Bell rather dimmed the recollection of his earlier success by failing at a penalty kick, and the amateurs' prospects were not brightened by their having goals from McFarlane and Russell disallowed. Still, the Celtic attack was so irritatingly brilliant and ineffective as to invite defeat, and 20 minutes from the close no other ending seemed possible, so sound was the defence of Hunter and his backs. What was beyond the Celts' clever and unconvincing forwards came easily to Cringan, and no sooner had a half-back saved the game than two forwards, McLean and Watson, won it. A third goal, a penalty kick taken by McStay, added to the amateurs' discomfiture, and a team that with a little care should have held an unassailable lead sustained an unmerited and exaggerated defeat. The honours of the game undoubtedly went to the beaten side.