History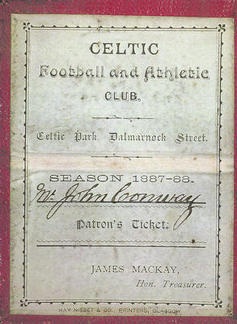 Celtic Football Club was formally constituted at a meeting in St. Mary's Roman Catholic Church hall on East Rose Street (now Forbes Street), Calton, Glasgow, by a Marist Brother named Brother Walfrid on 6 November 1887.
The charity established by Brother Walfrid was named The Poor Children's Dinner Table. Brother Walfrid's move to establish the club as a means of fund raising was largely inspired by the example of Hibernian F.C. who were formed out of the immigrant Irish population a few years earlier in Edinburgh.
On 28 May 1888, Celtic played their first official match against a Rangers side and Celtic won 5-2 in what was described as a "friendly encounter" (match page).
The team was as follows:
Articles
People
Articles
Quote
"The Celtic is a club which, by reason of its peculiar constitution and position, has had its brief but brilliant history traced again and again, and I need not therefore go into details. The club had a phoenix-like origin – it arose from the fading ashes of many another organisation, but even though its talent is of the purest stuff, it has not been without its reverses. These are of recent date, and need not be mentioned. The men of the Celtic team know the value of science and practise it persistently. Science, however, has its drawbacks. Bad weather and soft grounds don't agree with it, and this the Celts are fully aware of, I am sure. Having successfully crossed the Clyde – and the crossing operation was not pleasant to the Clyde – the Celts mean to have a say in the final, and I have no doubt they will, as they are a playing combination I have a very healthy respect for."
Scottish Referee December 3rd 1888
"For fully sixty years, in remuneration and life-style, the Scottish professional footballer filled the role of the aristocrat of the working-classes. He was not remote, as the music-hall stars were; he lived among the men who admission money paid him, and he spoke and often dressed as they did. Football provided a chance, hazardous in the extreme, but at least a chance, of escaping the drudgery of nineteenth century working-class life".
Bob Crampsey, Scottish football historian, The Scottish Footballer.
---