Personal
Fullname Thomas Boyd
aka: Tom Boyd
Height 5.11
Weight 11.04
Born: 24 Nov 1965
Birthplace: Glasgow
Signed: 2 Feb 1992
Left: 1 June 2003
Position: Defender, Full-back and sometimes Central Defender
Debut: Celtic 2-0 Airdrie, League, 8 Feb 1992
Internationals: Scotland
International Caps: 72
International Goals: 1
Biog
"What do you want to be as a player? Do you want to be a winner? Or do you want just to earn good money?"
Tom Boyd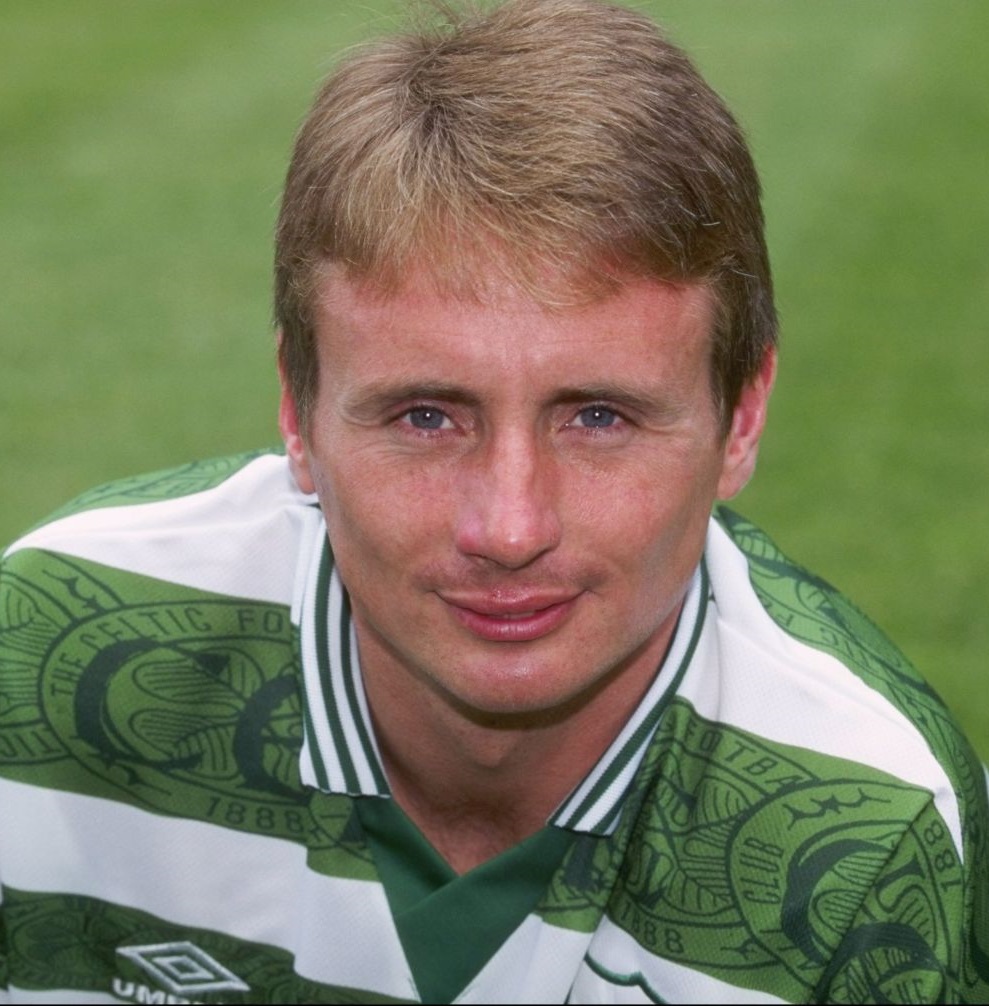 Until Celtic got Larsson for next to nothing, Celtic's switch of Tom Boyd from Chelsea for Tony Cascarino will surely rank amongst the greatest steals ever by Celtic. How on earth the club were ever able to dupe Chelsea into this manoeuvre surely must rank amongst the greatest acts of fraud that even celebrated TV detective Columbo would have difficulty unravelling.
The support at the back of the old Jungle terracing were all singing "Lets all laugh at Chelsea" repeatedly on his debut game at Celtic v Airdrie. Tom Boyd hadn't settled in London, and having tasted success with Motherwell in the classic 1991 final, mediocrity with Chelsea was a poor alternative for him in comparison to coming to Celtic.
That said, Celtic were the poor relations in Glasgow at the time, and Tom Boyd was not only being over looked due to Rangers dominance but he was overshadowed at Celtic by Collins and McStay. Hard to believe that with these three quality players in Celtic's side that the first team could have been so poor at times, but with the shambolic management in his early years and when you were surrounded by some of the lack of quality players Celtic had then, he really did have a hard job ahead of him.
Tom Boyd's first game return to Fir Park (Motherwell) for Celtic saw him get sent off (after being barracked with abuse from the M'well fans) which we're sure didn't help his confidence. Regardless, he developed quickly enough to get over it, and he went on to be a great defender whose laid back style at times hid his actual true ability and confidence.
A classy defender, he used to be able to breeze past attacking players whilst others struggled. Composed and intelligent, he was a bright light in what was more than often an erratically performing Celtic defence. There were other good players, but few seemed to give their best consistently enough. Curiously, preferred the left-back role despite being right-footed (although flitted between the two sides).
Many of his supporters would rank him as being the best full-back (on either side) that the club had since the departure of the great Danny McGrain, and that is quite an honour.
His early career at Celtic was filled with underachievement as Celtic's performances hovered too often between poor and pathetic, but he was to finally taste success as Celtic finally won the Scottish Cup in 1995 (after losing the league cup to Raith Rovers in 1994). It was a start but it was to be a stop-start situation.
It has to be added in that this was a time of vast transition at Celtic. He was there from the days of 'Sack The Board' in the early 1990s, into the whole transformation of Celtic under McCann and then up to the arrival of Martin O'Neill at Celtic. It was a vast jump in which few others ever again will see as great a transition of the club in their careers.
Tom Boyd played a strong part in ending Ranger's 9-in-a-row, being the captain in Celtic's one-in-a-row in 1997-98, and had the honour to lift and kiss the trophy that sent both the team and crowd into raptures. It was from Boyd's feet that the referee rolled the ball away in the final game and then blew the final whistle that signalled the league victory and the joy as he exploded into ecstasy was the signal for everyone to celebrate the good times. The occasion was greater for him than anyone else on that pitch as he was there through some very dark days with Celtic. Most of the other mainstays through that time had by now left or retired from play.
His career continued through further ups and down at Celtic, with some very difficult times after a churn of managers. After the difficulties of the John Barnes managerial era, he could have thought the club was jinxed.
Things turned for the better under Martin O'Neill, and he played his part as the team captain in the memorable treble year of 2000/01, a season he deserved to be fully involved in and receive the plaudits. Hard for him to have imagined in 1992 or 1993 that this would ever happen but thankfully it did. He became only the second captain (after Billy McNeil) to captain a Celtic side to the domestic treble. A great honour.
However, he often did not get the full praise and accolades he deserved often enough from the support until after his departure. Maybe he was too often taken for granted. The barren days didn't help his case, as many tried to blank out that period from their minds. He along with Paul McStay and John Collins were the three bright lights in the side in what was otherwise a poorly performing Celtic team during the early 1990s. He was also very loyal to the club, that is much to admire.
Like many other great full-backs in Celtic's history, he rarely scored any goals. Just two in his whole time at Celtic (1-1 v St Mirren in Apr 1992 & the winner in 2-1 v Falkirk in Apr 1995). This was despite his propensity to run up and down the wings. Still, he provided a lot of crosses and passes for others to score.
Capped 72 times for Scotland as well, he was consistent and reliable but he is also remembered for having scored an own goal v Brazil in the 1998 World Cup, the winner for them. But Scotland were always going to lose that one in any case, plus can hardly be held against him. He was a great player for the national side, again much underrated by sections of the Tartan Army on many occasions. Brazil were the reigning World Cup champions and made the final in 1998 (losing to hosts France).
Tom Boyd is a very likeable person and player, and the support wished him all the best.
Players like Boyd prove that you don't have to be a cheeky chappie character (copyright McAvennie) to achieve anything in sport. Don't get the wrong impression about Tom Boyd as he was a strong competitor. Teammate John Collins slotted Tom Boyd in the best XI of players that he played alongside (and he played in a side that made the European Cup final in 1998), and stated that Tom Boyd hated losing even in training. So much for the nice guy persona but it showed that he did have a ruthless streak and would fight for the jersey.
His trophy haul of eight trophies over such a long period can be under-appreciated by the more blinkered, but when you consider the state of the club when he arrived and the environment the club were in, eight trophies (seven in 5 years as captain) is a fantastic return for his career.
Post-Celtic
At time of writing, Tom Boyd does media work, works with the Celtic youth set-up and is a regular guest on Celtic TV and Celtic fan generated podcasts. Still watches and supports the Hoops.
Always willing to stand up for the club, he caused a furore in the media in 2019, when as part of the Celtic TV commentary team he chastised the referee as part of the live match commentary and claimed bias against Celtic, and called for referees from outside the country to be drafted in.
We'll always respect him and hope him the best for the future.
Quotes
"What do you want to be as a player? Do you want to be a winner? Or do you want just to earn good money?"
Tom Boyd chose medals, honours & great memories over a cash-in

"The correct thing to do is not so much give it to other teams but punish those teams for losing it if they have found to have been getting in fraudulently or cheating through that way. Obviously, yes, I think the appropriate punishment would be to strip them of these titles."
Tom Boyd on Rangers being stripped of titles for EBT & cheating
Playing Career
Club
From
To
Fee
League
Scottish Cup
League cup
Other

Celtic

06/02/1992

01/06/2003

£ 750,000

295 (9)

2

20 (3)

0

18 (2)

0

16 (1)

0

Chelsea

27/06/1991

06/02/1992

£ 800,000

 

Motherwell

01/08/1990

27/06/1991

Youth

 

 

 

 

 

 

 

 

Totals

£1,550,000

 

 

 

 

 

 

 

 

 

goals / game

 

 

 

 

 

Apps

Goals

Apps

Goals

Apps

Goals

Apps

Goals
Honours with Celtic
Scottish League
Scottish Cup
League Cup
Pictures
Matches
Links
Becoming a Bhoy: Tom Boyd
By: Laura Brannan on 08 Mar, 2012 10:31
Celticfc.net
WHEN Celtic signed Tom Boyd in 1992, the fans knew exactly what they were getting – an experienced, yet still youthful, player in his mid-20s, with a mature head and the ability to defend solidly and professionally.
The Scotland internationalist had already spent eight years at Motherwell before he made the move down to Chelsea in 1991. He went with a winner's medal in his pocket having lifted the Scottish Cup with the Fir Park side the previous season and it was when he was in London, Celtic cemented their interest.
The boyhood Hoops fan didn't have to think twice about moving back up to Glasgow, and despite joining during a difficult period in the club's history, he went on to enjoy the type of success and silverware dreams are made of.

You recently marked your 20th anniversary of signing for Celtic. Do you remember how the move came about?
I remember the manager at Chelsea, Ian Porterfield, called me into the office at Stamford Bridge which I thought was strange because we trained on the outskirts of London. He then put to me that if I wanted to do it they would do an exchange with me for Tony Cascarino. He told me if I wanted it then the deal was on. I didn't have to think too long about it and obviously said yes to the offer.
What went through your head when heard it was Celtic who wanted you?
About time too! I had been linked with Celtic previously but I don't think they could pay the transfer fee at the time. As a supporter, though, I was desperate to get to the club in any form and I was delighted the opportunity came about. Tony wasn't doing that well in Glasgow and that meant there was a position available. I'm glad Celtic decided to come in for me.
How was the timing of the move, were you enjoying yourself at Chelsea?
It was okay. I was only down there six months and I had been in and out of the team. We were sitting around mid-table and we would quite often change from a back three to a back four. A lot of the times we would only play the three so I would be the one taken off. I played in the last four or five games I was there and I think we won them all, including the last one which was a victory at Anfield against Liverpool. We were starting to get a good bit of form together at the time. It was okay but I didn't see eye-to-eye with the manager at the time. I disagreed with me being sacrificed for the change of formation but these things happen and Celtic came in for me. That was a special feeling as they were my boyhood heroes and it was something I definitely didn't want to knock back in case the opportunity never arose again.
You say you were only there for a matter of months – had you already settled into life in London by then?
Well I had only just got married that summer prior to the move so we were in the process of moving at the time. We were in rented accommodation and we were looking around at two or three houses. We were trying to get settled in, it was a big move from Motherwell to Chelsea but then Celtic came in and we didn't have to look any further – all of a sudden we were looking for a place back up here. We didn't have any children to worry about at the time so didn't have to think about them changing their school, it was just the wife who was delayed in terms of her work. We got settled in up the road quite quickly though.

Was the deal quite a straightforward process or did it take a while to iron out the finer details?
I was asked to come up on the Thursday and in no time at all I was being paraded in front of the press. There was no danger of me knocking it back so I was delighted when it went through. It was just a case of going over the contract but there wasn't much hassle involved at all.
What was your family's reaction to the news?
They were certainly delighted. My father came to my press conference with me and they were all delighted with the news. I'd kept it quiet from them for a bit until I knew it was definitely going to happen but eventually it got out and they were all delighted I had managed to sign for Celtic.
Did you keep the newspaper cuttings from the day you signed?
I was going to say no because the pictures were horrible but they are all stashed away somewhere and when you look at them you see how young I looked back then. That would have been 1992 and only a few years had passed since I had been playing at youth level. Occasionally you look back and you see the difference – it's amazing how time flies.
Do you remember how the media reacted to the move?
I think it was all good. I was a Scottish internationalist at the time and I was experienced. I had been playing a long time in football so there were no problems. The Cascarino thing was disappointing for Celtic but for me there was nothing but positives. They were saying it was a good deal and even if I had only played the one game, the support and pulling on the jersey was enough for me – but I stayed around a little bit longer than that!

Do you still remember your debut against Airdrie in a 2-0 win two days after you signed?
Yes, I remember being really nervous. We were running out in front of The Jungle, as it was back then, and seeing all the faces there. It was a great feeling and I couldn't wait for the game to get started. The nerves were building up but once it starts you get into your stride again. I was glad we won that game, we were on a good run at the time and it was a good time to come in.

And 20 years ago – does it feel that long ago?
Yes! If you see me now trying to keep myself fit it certainly feels like it was 20 years ago. I was fit away back then but I'm losing it now and that's a sign I'm getting older. I still remember the game, especially the start of it and I really enjoyed it once I got going as well.
It was unfortunate you came into the club during a difficult period, though, was it hard as a player?
Well when I joined we had only lost one game by that stage – a semi-final to Rangers, and my first derby experience was at Ibrox, which we won 2-0, so I was thinking it was going to be a great season. But unfortunately it never materialised that way and we didn't really have the ability to pay for the good players. We started to go downhill in terms of the quality signings we could afford and it wasn't until the takeover, the season after, we started to compete again. Unfortunately that had been the position we were in at the time and that reflected in the level of performances and where we finished in the league at the time. The big money signings we had, like Cascarino, never took off at that time and that had a big part to play. It was a huge disappointment because it was Celtic and we were meant to win things, but it took a while before we got the cup in 1995.
You went on to have success eventually, however, would you say you achieved your initial aims?
Oh god, yes! My aims were to do well at Celtic and do my best. I wanted to win the championship, that's Celtic's history and that's what we're born and bred on. Obviously it took a wee while for that to happen but it did and in 1997/98 we did it and stopped the 10-in-a-row. Firstly, just to get a game for Celtic, as a supporter, was something, but once you start to play you want to be successful and it was great that happened eventually.