Personal

Fullname: John Stein CBE
aka: Big Jock, Jock Stein
Born: 5 October 1922
Died: 10 September 1985
Birthplace: 339 Glasgow Road, Burnbank, Lanarkshire (Scotland)
Signed (player): 4 Dec 1951
Left (player): 29 Jan 1957 (retired)
Position: Centre-half
Debut: Celtic 2-1 St Mirren, League, 8 Dec 1951
Internationals (player): Scotland; Scottish League
International Caps: 0; 1
International Goals: 0; 0
Coach (reserves): 1957 – 13 Mar 1960
Manager: 9 Mar 1965 – 28 May 1978
Succeeding: Jimmy McGrory
Successor: Billy McNeill
Scotland Manager: 13 May 1965-7 Dec 1965 (interim); 4 Oct 1978-10 Sep 1985
Summary
Jock Stein is one of the most notable managers in British football history, and in our opinion the greatest manager who ever lived. He is best known for his time as manager of Celtic and for managing the Scottish national football team, but his impact was far greater than just on the pitch and stretches into social and community issues that surround the history of Scotland.
He is regarded as the greatest out of the legendary quartet of Scottish football managers (i.e. Jock Stein, Bill Shankly, Sir Matt Busby and Sir Alex Ferguson) and has been voted the greatest Scottish football manager reflecting this.
Player 1951 – 1957
"Unlike many other Celts, I cannot claim that Celtic was my first love … but I can say that it will be my last love."
Jock Stein in a speech at a Supporters night in 1955

Born in Burnbank, South Lanarkshire (Scotland), Jock Stein knew football would be his escape from the Lanarkshire coal mines. In 1937 he left Greenfield school in Hamilton and after a short time working in a carpet factory and went down the pits to become a miner. The next year he joined Blantyre Victoria junior football club.
He started out as a professional player with Albion Rovers in 1942 but continued to work as a miner during the week while playing as centre-half on Saturday. He made a name for himself as a no nonsense centre-half and went on to make over 200 appearances for the Coatbridge club, which also included a brief loan spell to Dundee United in 1943. Rovers won promotion to the First Division in 1948.
In 1950 Jock Stein signed for non-league Welsh club Llanelli Town. For the first time in his career, he became a full-time professional footballer on the sum of £12 per week. Sadly, he was soon desperate to return to Scotland as he had left his wife and young daughter behind and his house had been broken into twice in his absence. His wish was granted in 1951, when on the recommendation of Celtic reserve team trainer Jimmy Gribben, Celtic bought him for £1,200.
He was signed as a reserve but injuries incurred by first team players resulted in him being elevated to the first team. In 1952 he was appointed vice-captain and when captain Sean Fallon broke his arm the full captaincy was passed to Jock Stein. He would be club captain until his Celtic playing career ended due to injury in 1956.
In 1953 he captained Celtic to Coronation Cup success when they unexpectedly beat Arsenal 1-0, Manchester United 2-1 and Hibernian 1-0 to become unofficial champions of Britain and in 1954, he captained Celtic to their first League championship since 1938 and first League & Scottish Cup double since 1914. In light of the drought in the many years previously, this was quite unprecedented, and Stein had more than played his part in this success.
His emergence into the side was pivotal for the club. Without his input that led to winning honours, the club's trophy famine would have been longer and continued an unbearable barren spell in the records of the club's long history. He helped to galvanise the side and his tenure at the club saw the team to push for honours which otherwise would have been outwith of the First Team's grasp. As a measure of his importance, from the year after his departure from the club as a player, Celtic did not win another trophy until ironically Jock Stein returned back as manager in 1965.
Jimmy McGrory's record as manager was shored up due to the purple patch of form at the time of Jock Stein's place in the first team. He was a great player and the supporters loved him. Some commentators even attribute the brief good spell of honours in the 1950s down to Jock Stein alone and not even to McGrory. A harsh opinion on the manager, but there is much truth to it when you look at the bare facts in the role of honours. Jock Stein was the bedrock of the side.
Already, he was becoming a great student of the game. During Scotland's performances in the 1954 World Cup Finals, Jock Stein watched and learned from others: firstly, about the shambles of Scotland's preparations and secondly about continental tactics, particularly the Hungarians who were revolutionising the game. It was to leave a lasting impression on him. John Hogan who was instrumental to the Hungarian system was a coach at Celtic but was poorly utilised by the players at the club. Jock Stein is likely to have learnt from that experience from those who served under John Hogan, and he learnt that management must enforce itself and not expect the players to work for success alone.
In 1956, Jock Stein was forced to retire from football after persistent ankle injuries. He retired formally in Jan 1957, as an ankle injury in a league cup against Rangers led to the end of his playing career, and he wore the hoops for the last time against Coleraine in a close season match in 1956. Sadly it meant that he missed out on the magnificent 7-1 victory over Rangers in the League Cup final later that year.
In total he played 148 league & Cup games for Celtic and scored two goals (a stout defender). If anyone questions the impact that the club had on him emotionally, then you only need to read his own words when he said at a supporters' night that:
"Unlike many other Celts, I cannot claim that Celtic was my first love… but I can say that it will be my last love."
After retiring from play, he was given the role of coaching the reserve and youth players and was responsible for persuading the board to purchase Barrowfield as a training ground. In 1958, he led the reserves to the Second XI Cup with an 8-2 aggregate triumph over Rangers. This was Stein's first success as a manager. It was embarrassing that whilst the reserves were succeeding, the senior side were failing repeatedly. The reserves were better coached and managed, yet the board and senior side were paying little attention to this, and it was to be Celtic's loss when he decided to move on.
His time at Celtic as a player was to have a profound impact on Jock Stein, but it wasn't just all football related for Jock Stein, his life at Celtic was to be more than just a sum of the games he played for the club. Jock Stein's life changed forever as there were deep social repercussions from his move. On joining Celtic, his long-time 'best friend' walked out of his house and life forever due to his choice of new club (being Celtic). Others followed his 'friend'. "Maybe they weren't friends really," he said in a later reflection.
His father was said to be so disgusted on his signing for Celtic that he wouldn't even utter the club's name and never wished him good luck or the best prior for a match. This unhealthy environment was set to ingrain a deep seated hatred of sectarianism and fuel his personal crusade against bigotry.
It is fair to say that he will have experienced bigotry from both sides (once even challenging Charlie Tully in an after-match bath after Charlie Tully jokingly questioned the number of non-Catholics in the Celtic side), but he was never one to take part in the banter but rather challenge it. It was to have an impact on him that was to fuel his motivation to succeed against all obstacles for the rest of his life in whatever challenge he was to face or take on.
Playing Career
| | | | | | |
| --- | --- | --- | --- | --- | --- |
| APPEARANCES | LEAGUE | SCOTTISH CUP | LEAGUE CUP | EUROPE | TOTAL |
| 1951-57 | 106 | 21 | 21 | – | 148 |
| Goals | 2 | 0 | 0 | – | 2 |
Honours with Celtic as a player
Coronation Cup
Scottish League
Scottish Cup
Manager 1965 – 1978
"I enjoy being manager here, because I like the people who support us."
Jock Stein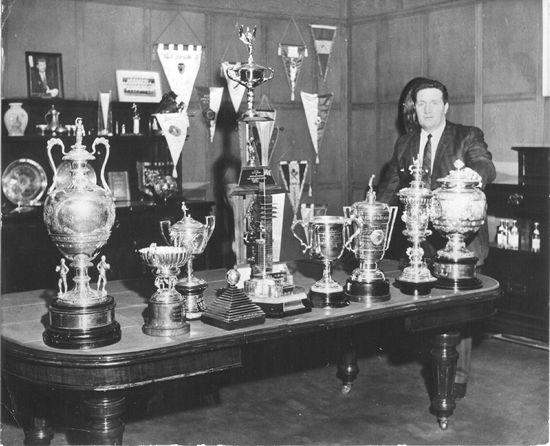 On 14 March, 1960 he accepted the job of manager at Dunfermline. After only 6 weeks in charge, Stein led them clear of relegation. He built Dunfermline into a powerful force and guided them to their first Scottish Cup in 1961, ironically via a 2-0 replay victory over Celtic.
On 1 April, 1964, he was appointed manager of Hibernian and within months of becoming manager he led them to Summer Cup success. The testimony of his contemporaries was that he was already "miles" ahead of everyone else in his understanding of the game, and in studying how the investment of energy could be tailored to maximum effect. Jock Stein was immersing himself in the structure of the game while the rest simply went out and played.
Return to Celtic as Manager
On 9 March, 1965, Stein returned to Celtic as their first non-Catholic manager. It was an offer he could not refuse as it may not have come again.
It's hard to know where to begin on Jock Stein's reign at Celtic. It could have been so different, and he might have chosen to rather stay at Hibs where he was the newly appointed manager, but his heart lay at Celtic. Unfinished business or he moved in respect to Sir Bob Kelly, Jock Stein was the new manager and everyone knew that things were to change. Celtic had upto this point only had three other managers in its whole history, so Stein likely saw this chance as a once in a lifetime opportunity.
Jock Stein was blessed with some great talent on taking over, aided by the 'Kelly Kids'. McNeill, Jinky, Murdoch et al were already there but their morale was rock bottom. Many even were on the verge of leaving the club. If he had come even just a short while later, who knows what Celtic could have missed.
However, the first thing to challenge was the stalemates at the club. The previous incumbent (Jimmy McGrory) had acquiesced too easily to the board and let control slip through his fingers. The team was a shambles and a poor reflection of its glorious past. McGrory was there to take the flak for the failings and yet had no real control of any of the matters. Stein's first great victory was to force the hand of the board to ensure he was to be the sole man in charge (and NOT then chairman Bob Kelly). That required good early results, and success came early.
The Scottish Cup final of 1965 was pivotal, and victory over Dunfermline (favourites for the final) helped to cement Jock Stein's position and control against the board's interventions. The victory came following a barren period of 8 years without a trophy for Celtic. He commented that how things could have been so different if Celtic had not won that. It gave Jock Stein the justification for the right to manage as he freely wished to without any interference.
The next season Celtic were crowned Scottish league champions for the first time since 1954; they also reached the semi-finals of the European Cup-Winners-Cup only to be knocked out on away goals by Liverpool. It was a taste of greater glories to come, and had shown just how far he had turned the club around. Bad refereeing caused Celtic to lose out on making it to the ECWC final and possibly winning it, however lessons were learnt and it was to be repaid in spades in time to come.
Celtic had begun their reign of domestic dominance, and were to monopolise the league cup for the next 5 years and the league was to remain in Celtic's hands for an incredible nine seasons in a row. Not even the most optimistic could have believed this possible only a few years back.
So how did he manage such a quick turnaround? The basis for the success from this great start was that from the beginning he was quite revolutionary for the staid world of Scottish football, bringing in a fresh approach. Firstly, unlike the old gentlemanly style of management of McStay and McGrory, Jock Stein preferred to actually mix with the players at training and not be a bystander. He was a tracksuit manager and introduced the football into training. Surprising as that last point seems, most training in those days for whatever reason did not involve practise with football. He introduced also specialised coaching for goalkeepers, previously seen as periphery.
In matches, he was not afraid to let the players express their abilities more and encouraged defenders to push forward and attack. He used to sit at various games starting with a notepad and pen and map out the lines some players ran in the whole game. Nowadays it's all automated but he was doing starting modern analysis ahead of the times. This made him a seminal manager for the game both at home and abroad.
He helped to push the boundaries of the game (tactically), but his emphasis was always good football, and with players like Jinky & Murdoch in his squad it was a smooth task, but Stein was the catalyst for those players and they've always stated their debt to the great man. Jock Stein was never afraid to show who was in charge and the famous hair-dryer method of team talks was much exercised. Billy McNeill recalled that after one argument with Jock Stein after a game that he went for a bath. The next thing Jock Stein came storming in and jumped right into the bath (fully suited) and continued the argument. Billy McNeill knew then (if not even before) who was in charge and not to be crossed.
Any critics of his man management style must realise that Celtic had had gentlemanly management and coaching under Jimmy McGrory and the legendary John Hogan, all to no avail. The players had to be reined in and Jock having experienced the soft method of man management, he knew that wasn't the right way.
People shouldn't get the impression that he was overly harsh. Players can be just big kids and they can need a stern father figure. Jock was a hard task master but he very much had a sense of humour. He loved to entertain by singing and could have a laugh with all. Quick witted and intelligent (see quotes) he was a joy for anyone to be around to listen to. To put anyone in their place he would never shirk from using his wit to cut them down to size. He was fatherly to the players which could mean tough love and that was what the method he employed most with his players and staff.
Having experienced under achievement with Celtic in the 1950's, which saw many very talented players take personal advantage of the system to the detriment of the club (e.g. Charlie Tully), he did not want this repeated. He wanted to achieve with his players what he could not himself as a player. The players all refer to him in retrospective interviews as a father figure, and that is the greatest compliment they can pay to the man on a personal scale. He took the players to his heart and they respected him for it. When you have young scamps in your side like Gemmell & Jinky, then a tough (and patient) father is very much needed; their antics were enough to drive anyone insane.
The foundations were laid and Celtic had begun possibly the greatest golden period for any club in football's history. Nine league titles in a row with many cup wins (and other final victory appearances). The team was led by Billy McNeill on the pitch, and the prime players were Murdoch (marshalling play in the midfield), Lennox slotting in the goals and Jinky dazzling the opposition with his skills. It was a great time to be a Celt and Jock Stein commandeered them both on and off the pitch, pushing them to reach the best of their abilities.
Season 1966-67 was the pinnacle of his career and that of his charges. Under his direction, Celtic swept up everything that they entered in that season, domestically and in Europe. Celtic were to become the European Cup winners and crowned the finest team on the continent, but it wasn't just the victory. It was the manner of victory. Celtic were the first non-latin side to win the European Cup and had broken down the rise of the Catennacio system of football tactics (under the difficult and at times reprehensible Helenio Herrera (Inter Milan manager)) but more importantly Celtic had played and won the game in the way it was meant to be played. Jock Stein had sent the players out in an aggressive 4-2-4 attacking system and play in their best way. He had matched his counterpart in the psychological stakes, and he players did not let him down. His pride was boundless: "We must play as if there are no more games, no more tomorrows…".
Liverpool manager Bill Shankly summed it beautifully at the final whistle to Jock Stein: "Jock, you're immortal now!". Those words are the most oft-repeated on any reflection on Jock Stein's life.
Celtic were the first team to sweep all in front of them, and others may have matched it since but never as great as he had done so. The squad was all home-grown, and under his management and skill he had led them to levels that no one could ever have believed. Many managers & top coaches have cited his achievements that season as being influential (e.g. Brian Clough, Matt Busby, Alex Ferguson), and it is a measure of his stature that he is held aloft by Alex Ferguson as the greatest ever.
Post-Lisbon
Jock Stein was a forward thinker and at the same time as he led the first team to the European Cup final in 1967, he had already begun to rear a young and upcoming set of players who were to lead Celtic onto further glory. The Quality Street Gang of players is possibly one of the greatest set of young players ever to have to grown up together, including Kenny Dalglish, Danny McGrain, Lou Macari and Davie Hay. The most fetted was the mercurial George Connelly. With these players, Jock Stein showed his wealth of talents in producing and procuring players.
Every one of those players (even those who never reached the top) has praised Jock Stein and their debt to him for their development. With them the support experienced some great entertainment, sublime football and further League, Cup & European success.
However, the Quality Street Gang also showed the strain for Jock Stein. As much as Jock Stein was very much a moderniser and dragged not only Celtic but Scottish Football as well into the modern age (for tactics, training and preparation etc) there were other changes in the game that Jock Stein found hard to deal with. Celtic was poorly managed by the board and they squandered the opportunities to build up a golden financial nest egg to invest in facilities and players. Due to the greater rewards possible in England, the club lost too many good players rather than being able to hold onto them to build upon what what was there. Amongst others, Davie Hay, Lou Macari and Kenny Dalglish were lost for financial reasons. Jock Stein was from an era where community and achievement was paramount, and you remained loyal to your seniors.
Times were changing, and with little support from the board, he was at a loss to handle the financial side to help keep the Quality Street Gang players at bay. Jock wasn't actually averse to using financial rewards as an incentive for players but he didn't have the resources to match what the richer clubs down south could. This was a time when managers were far more burdened with responsibilities unlike today's where much has been delegated to specialists.

For Jock Stein, it was painful to see his project cut apart, but most painful was George Connelly. Most feted by Jock Stein, he was a seminal talent of which there have been few equals. One commentator on seeing Jock Stein with George Connelly at an awards dinner remarked, that it was like seeing a proud father with his son. However, George Connelly had his personal demons and this led him astray going AWOL on various occasions before simply having to escape Celtic altogether.
It is a measure of Jock Stein's character that whilst others murmured behind his back, Jock Stein actually spent much time with George to help him and even went personally to his home family in Fife to assist. It was to be with no success. Archie MacPherson claimed in his biography on Jock Stein that Jock's inability to handle the events surrounding Connelly was his biggest failure. It was a sore loss for Jock as he saw his players to be as like as his family. MacPherson also quite rightly points out the father-son relationship Jock Stein had with other players too, in particular Jimmy Johnstone and Kenny Dalglish. The strain must have been great around 1975 coping with the increasing number of off-field 'antics' of Jimmy Johnstone, the absences of George Connelly and the strong will of Kenny Dalglish seeking a transfer.
Despite the difficulties, Celtic were still in their ascendency and there was a genuine fear and respect for the club. Rangers in particular were suffering. Despite some success in Europe and the odd cup win, Jock Stein's shadow lingered large over them. One German journalist remarked that it was Celtic who beat them in the ECWC final in 1967. Jock Stein despised Rangers passionately for what they stood for, and most of the players remarked just how much satisfaction he would take from a victory over them. It was never something he hid, taunting them and their sycophants in the press whenever he could. He hated their bigoted ethos and used his wit to cut them down with it.
What hurt Rangers' fans the most was that Jock Stein had actually grown up as a Rangers fan as a child, and to see him lead Celtic to the peak of the game was humiliating. There were stories abounded in the early days of his reign that Jock was approached to come to Rangers and become their manager, but that was never to happen. Jock Stein loved Celtic and hated Rangers. There was no choice for him. The support respected him even more for it.
His position on Rangers had a further impact on the support. Jock Stein practised what he taught and he followed the mantra of decency, respect and tolerance for all. He challenged all those who didn't follow, and there was no one who more represented that than Rangers. It was an element of his character that out of respect the support followed him on.
Jock Stein once humoured in an interview that his family were Orange but not staunch, and he was to show to others that tolerance and mutual respect were necessities to be a good person. It's getting harder to envision now, but back then and before, bigotry was so entwined in Scottish society that it was treated by some as a merit on their own character to be bigotted (as at Rangers). A pathetic state of affairs but Jock Stein was above this. He saw decency and humanity at Celtic where he was to sow his roots and it was to be this character that was to imprint an indelible mark on the history of the club. No Celtic supporter has been left untouched by his good deeds.
Possibly, one of his most famous actions came in August 1972 when in a game between Celtic and Stirling, Jock Stein stormed into the Celtic end on the terraces during a match and confronted a Celtic supporter. He chastised the man for what he was belting out, lambasting him in no uncertain terms. As Jock Stein later put it himself: "The wreckers are chanting about things that have nothing to do with football". Whilst others like to take the moral high ground from afar, Jock Stein took a stand toe-to-toe with those he took issue with. It's something all can learn from.
Whilst Jock Stein's sides were dominating the competitions and making a name in Europe, many watched and learned from him. Ironically, the player to learn the most (in managerial terms) from him was Alex Ferguson (an ex-Rangers player) who has never hidden his debt to Stein and his admiration of the great man.
With all his achievements, Jock Stein should have been a stick-on for a knighthood but he was passed by. Others in the sporting world had been given it for less. According to later records, he was not awarded the knighthood due to the debacle of the World Club Championship matches in 1967. Celtic were not at fault for what had occurred, and the excuse making was pathetic. Many believed it was as he was a Celtic man, and there is likely much truth in this. He was belatedly appointed a 'Commander of the Order of the British Empire' (CBE) in 1970 partly as a reflection for the European success but it was a pathetic understatement of what he had achieved.
Jock Stein's reign and success has made him practically untouchable. His full haul (as recorded below) is incredible as it was achieved with little or no financial outlay unlike that of the success attained by clubs in modern day football spheres. It is testament to his abilities that he shirked no tackles himself as a manager as much as when he did as a player in doing whatever it took to keep the team at its best, and he was always fully loyal to his staff (coaches and players). His faithful friend and assistant, Sean Fallon, remained at his side practically throughout his whole time as manager and speaks fondly of him. Sean Fallon was able to assist Jock and help to act as a counterweight for the players as a person to turn to if need be.
Final Seasons as Manager
Possibly the turning point came in 1975 when Jock Stein was involved in a car accident which left him out of club management (passed to his assistant Sean Fallon) for most of the 1975-76 season. He nearly died but recovered to regain management duties although his fire and focus were dimmed. Some felt that he was never quite the same man again. Celtic regained the league title in 1976-77 but the following season Jock Stein's decision making in transfers and teams were often poor and Celtic lost the lot to a belligerent Rangers' side who swept to the domestic treble. It was clear that the best times were over and a difficult managerial transition was needed.
Jock Stein knew it was right to step down after a long glorious reign but it wasn't to be easy for him. He was offered a role as director but turned it down. It was not fully explained by Jock why he necessarily turned it down but he did remark that he still wanted a working role with the players and still had something to offer. Sadly, critics out with of the club have tried to pin it down that he was not offered such a position as he was not a Roman Catholic but there is no truth or scrap of evidence to show any of that (and it's just scurrilous rumour mongering).
Sometimes it is just a case of people wanting to take cheap shots at the club and the old board, but in truth Jock left for his own reasons despite the club wishing to retain him in some capacity. However, he himself was close to leaving at one point (around after the European Cup defeat of 1970) and almost took on the Manchester Utd manager's job only to reject it ultimately as Matt Busby would still be there above him. Possibly, he was being consistent here at Celtic in that how could he stay at Celtic with another manager for the first team when he wouldn't accept it with Matt Busby at Man Utd.
It was not an easy transition afterwards with Billy McNeill (although he did have a great start with Celtic by regaining the league title), but Jock Stein was truly irreplaceable. His personality, character and aura gulf even the huge mass of trophies & awards he had won with the teams he had built.
European success
"There is not a prouder man on God's Earth than me at this moment. Winning was important, aye, but it was the way that we have won that has filled me with satisfaction. We did it by playing football. Pure, beautiful, inventive football."
Jock Stein on winning the European Cup (1967)
He managed Celtic to a domestic treble for the first time in the club's history, winning the Scottish League Cup, the League Championship and the Scottish Cup. He guided Celtic to victory in the final of the 1967 European Cup against previous champions and Italian giants Inter Milan.
Despite initially falling behind to an Italian penalty his team triumphed 2-1, winning much admiration for the positive attacking quality of their football. In winning club football's most prestigious trophy, Stein became the first man not only to guide a Scottish club to become champions of Europe, but also the first to achieve this honour with a British club. Celtic were also the first side from outside either the Iberian Peninsula or Milan to become champions of Europe, the first non-Latin and northern European side. He also became the first manager of the first club in history to win all competitions entered in a season.
The most remarkable feat, was that it was done with a a team comprised entirely of players from one country (Scotsmen), all born within 30 miles of a single city (Glasgow). The feat of winning the Champions Cup with a team full of native-born players was later matched by Steaua Bucharest under Communist rule. In a conversation with Bill Shankly shortly afterwards, Bill Shankly famously told him "John, you're immortal now".
The following season, Celtic won the League and League Cup for the third season in a row. And in 1969, Celtic won another domestic treble their second in three years. In 1970, Stein led Celtic to a League and League Cup double, they also finished runners-up in the Scottish Cup. He also guided them to their second European Cup final which they lost to Dutch side Feijenoord (now Feyenoord) in Milan.
Celtic managed to achieve strongly in Europe with two more sets of European Cup semi-finals. However, Celtic underachieved in these matches. In 1972, Celtic faced again Inter Milan. In two no-score matches (something that the Italian cattanacio masters would love) Celtic sadly lost on penalty kicks. It was cruel but Celtic were not beaten in the 90 minutes by the club's old foes.
In 1974, it was an absolutely disgraceful situation as after drawing the first leg 0-0 at home against Athletico Madrid, the team was left to prepare in a belligerent atmosphere being hounded on their whole time there, being kept awake all night by their fans/gangs hollering outside the hotels, and death threats being left to certain players. Celtic lost 2-0 but it was the circumstances in which the team had lost that pains the most.
With the limited financial resources at hand, what Jock Stein had achieved in Europe was phenomenal, it is something that most managers can only envy.
Scotland manager
"I always thought Jock Stein was the perfect international manager. But you (England) don't have anyone like that. You don't have Jock Steins, you'll never have a Jock Stein."
Alex Ferguson

Jock Stein had two stints as manager of Scotland.
First, Jock Stein had been as part-time national manager in 1965, and even then as only in an interim post he still couldn't help but create history with the national side, by managing them to their only victory against the mightly Italians in Scotland's history.
In 1975 when Willie Ormond was in charge of the senior Scotland team and had taken them through to the World Cup in West Germany, the SFA had little confidence in Ormond and his man-management abilities. With a possible view to lining up Stein as the future Scotland manager Jock Stein was appointed part-time Scotland U-23 team manager clearly with the view that he would be travellinfg with Ormond and spending time with the full team whilst involved in U-23 duties. When Ormond fell foul of the SFA chairman after a game in Romania in June 1975 there was strong speculation that it was Stein who the SFA wanted in charge. However, the man himself still felt there was unfinished work at Celtic and declined the position. Ormond continued to 1977 and was succeeded by Ally MacLeod for 1 year.
Jock Stein's second stint started as full Scotland manager was from 1978. He actually became manager of Leeds United after leaving Celtic, but after just 45 days in charge at Elland Road, Stein abruptly resigned accepting the position of Scotland manager. He took on the role full-time and he was now able to focus on the job fully. He led Scotland to the World Cup Finals in 1982 where they went out on goal difference to the Soviet Union (having had to face the might Brazil in the group earlier). During qualification for the 1986 World Cup, Stein brought in a young Alex Ferguson – at the time Manager at Aberdeen – to be his assistant. An experience he has never forgotten.
In truth, Jock Stein had little of the fire of his earlier days. He was still a great coach, but a combination of age, the mental impact from the car crash in the 1970's and changing times had meant there was less of the rumbustious character of old. He was a worn down man, and in part he was living off his past laurels. Despite this, Scotland had a fair record under his management but it could have been even better.
On September 10, 1985 at Ninian Park, Cardiff, Scotland were playing Wales in a crucial qualifier for the 1986 World Cup. It was a tough group and Wales were a formidable side, and Scotland were hampered by injuries. Scotland games were huge occasions and the country was gripped with enthusiasm for this match. It added to the pressure and stress for all.
The result in this game virtually ensured Scotland's qualification for the 1986 World Cup Finals. Scotland managed a 1-1 draw to take the team to a set of qualifiers. On the scoring of Scotland's equalizer, the press swarmed around the dug-out to get the crucial pictures of the Scotland coaching team. Jock was in discomfort. Then with the final whistle about to blow, he seemed to slump and required to be helped down the tunnel. It was a poor sight as rather than use a stretcher, four men carried him by his arms and legs into the medical room. There was little they could do. He died soon after in the stadium at a time when he should have been able to join in with Scotland's celebrations.
Graeme Souness (later to be the Rangers manager) was the one to break the news to the concerned Scotland team. Two poignant words from Graeme Souness in tears: 'He's gone'.
Scotland, the global Celtic support and the entire footballing world was in shock and mourning. Jock Stein was a colossus, and his death marked the passing of more than just a man. It was the end of an era and the passing of a social & sporting giant.
Most have said he died of a heart attack, but actually it wasn't. Jock Stein hadn't taken his diuretic pills that day. He had succumbed to a build-up of fluid in his lungs, rather than a heart attack.
His name and memory will live forever more. He is simply immortal.
Celtic 9 March 1965- 31 May 1978
(Manager)
 
 
 
P
W
D
L
F
A

League

421

296

66

59

1111

413

League Cup

127

97

16

14

350

129

Scottish Cup

71

50

16

5

192

56

European Cup

58

33

11

14

118

52

ECWC

9

6

1

1

15

3

UEFA Cup

2

0

1

1

2

4

World Club Champs

3

1

0

2

2

3
Celtic: 4 December 1951-29 January 1957 (Player)

 

 

 

 

 

P

W

D

L

F

A

Goals

League

 

106

56

19

31

227

151

2

League Cup

 

20

8

2

10

34

35

0

Scottish Cup

 

21

12

6

3

40

24

0
Honours as Manager (Celtic)

Scottish First Division

10

League Cup

6

Scottish Cup

8

European Cup

1
Scotland

 

 

 

 

 

 

Temporary Manager (12 May – 7 Dec 1965)

 

 

 

 

P

W

D

L

F

A

 

7

3

1

3

11

11

Manager (4 Oct 1978 – 10 Sep 1985)

 

 

 

 

 

P

W

D

L

F

A

 

61

26

12

23

80

70
Jock Stein's Roll of Honour as manager

European Cup Club Champions
World Club Championships Runners-up
European Cup Club Runners-up
Scottish League Winners (Ten times)
Scottish Cup Winners (Eight times)
Scottish League Cup Winners (Six times)
Career
Links
Pictures
Books
Articles
Profiles
Video