Details
Ref: Celtic games on Xmas Day / Christmas Day
Last match: Celtic 3-2 Hearts on 25 Dec 1971
Yuletide goals!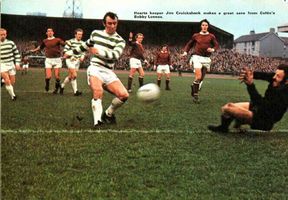 The idea of abandoning the presents, turkey and in-laws on Christmas day for a trip to Parkhead is an alien, if tempting, concept for a generation of Celtic fans.
The closest supporters will now get to seeing the Hoops in festive action these days on the big day is if someone challenges them to a game of FIFA on the Xbox.
The ghost of Christmases past however shows that this has not always been the case. Although never an integral part of the fixture calendar like the New Year game, matches on December 25th were an infrequent but hugely popular feature of the Scottish game for more than 70 years.
Between 1897 and 1971 Celtic played some fifteen times in competitive matches on Christmas day and on most occasions the opposition came bearing gifts.
Indeed the Hoops record for this festive fixture makes remarkable reading.
Out of those 15 games the Bhoys won 13, drew one and suffered a solitary loss. Celtic have netted an incredible 58 goals on Christmas day, an average of just short of 4 a match. In contrast the Hoops' defence was uncharacteristically Scoorge-like, conceding a measly 13.
The first Celtic game on Xmas day was actually in Celtic's inaugural year when the Celtic Strollers (reserves) played Airdrie St Margaret away on 25 Dec 1888 in a 2-1 defeat, in which William Naughton so impressed for the opposition in having "a demon game" on the day that he was to soon sign for Celtic.
Some might be a bit surprised now by the fact that matches were played on Christmas day but in truth Christmas Day as a day of celebration is really quite a recent phenomenon in Scotland. Up to around the 1970s, Christmas day wasn't celebrated but rather Hogmanay was the big day. People used to even work on Christmas day in Scotland (it was not a public holiday back then). Celebrating Christmas was seen as too Catholic for the more austere Presbyterian establishment. Commercialism is really what forced the change.
Celtic have also played twice on Christmas Day in friendlies in 1893 & 1895, both draws: 1-1 v Clyde (home) and 3-3 v Bury (away). The inaugural Christmas day match, the 1-1 draw with Clyde in 1893, is significant as it the club's first attempt to host an illuminated match. The Christmas clash drew a crowd of 5,000 spectators due to the novelty of a football match taking place under the aid of electric light. Football had been played under artificial lights in Scotland before, particularly at the Edinburgh Exhibitions, but this was the first match of the kind in a club owned stadium such as Celtic Park.
Some 16 arch lights were suspended above the pitch on wires, which were fixed to a dozen, 50 feet high, wooden posts. Meanwhile, almost 100 gas-jets provided additional illumination along the covered enclosure. Apart from the obvious eyesore of multiple wires hanging across the pitch, the cables also tended to sag too low and interfere with lofted passes.
Celtic's first Christmas day outing came in a competitive fixture came in 1897 when they travelled the short distance to Clyde and thrashed their hosts 9-1. For this goalkeeper, Edward O'Brien, not a Happy Christmas that's for sure.
Another notable victory came on 25th December 1915 when Airdrieonians were hammered 6-0 at Parkhead.
Kilmarnock were the Christmas day visitors to Celtic Park in 1937 when the Bhoys showed little festive spirit by dishing out an 8-0 drubbing of the Ayrshire team. Under normal circumstances such a result would have had the entire Celtic support in raptures.
But this game marked the return to Parkhead of legendary Celt Jimmy McGrory who was making his debut as manager of Kilmarnock and who had received a thunderous reception from the home fans as he took his seat in the stand. As such there was much discomfort among the Celtic followers as McGrory's side were humiliated.
Celtic had led the Rugby Park club 6-0 at half-time and with his side chasing the league title Willie Maley instructed his players to show no remorse to their opponents or McGrory. For some Celtic fans though this public humiliation of an idol they still worshipped was totally unacceptable.
While McGrory had no qualms at all about Celtic's attitude some supporters were less understanding. Their feelings were summed up in a letter sent to McGrory from Dublin priest Father Coleman in the wake of the game. Father Coleman denounced what he viewed as Celtic's ugly attitude to the match and he wrote the performance was:
"…a very ungallant, uncalled for, even dastardly act of the so-called Bhoys".
There was no such sympathy on display on Christmas day 1965 when a Joe McBride hat-trick had helped put Celtic 7-0 up at half-time against Morton. With the Parkhead faithful licking their lips in anticipation of a record victory Jock Stein's men, perhaps mindful of a busy holiday schedule, took their foot off the gas and the support had to eventually content themselves with an 8-1 triumph.
It was in hindsight a wise decision as 10 days later Celtic had plenty left in the tank as they destroyed Rangers 5-1.
In England the full Christmas day fixture programme was abandoned in the 1950s but north of the border occasional games would continue to be played on December 25th right up until the mid 1970s.
The last full programme of Christmas day fixtures in Scotland was however held in 1971 and it was on that date that Celtic bowed out of Christmas action. They did so with another victory, this time a 3-2 which over Hearts (pictured above) which was watched by a crowd of 34,000.
Nearly four decades on from that game all talk of seeing the Celts in action on the December 25th is now confined to the history books. However given Celtic's amazing record in these fixtures perhaps the Celtic support should be hoping for the return of a green and white Christmas!
Celtic's Full Christmas Day Record